Enjoy some other excellent podcasts!
Culture / General
Literature and History by Doug Metzger
I love this show so much. Doug Metzger brings passion, scholarship and music to his production – every show features a unique song about its subject. Add to that some top-notch humour and personality, and you have a winner. Website, iTunes.
Historium by Jake Barton
One of my current favourites. Historium tells stories from the past, in one-off episodes exploring different tales in detail. Host Jake Barton brings depth, humour and pathos to his narratives, and the show can be hilarious, exciting and tearful. Website, Facebook, iTunes.
History
The History of Byzantium by Robin Pierson
If you haven't heard Robin Pierson's podcast, you need to now. The natural "sequel" to the History of Rome by Mike Duncan, this show tells the complex, weird and magnificent story of the Eastern Romans (Byzantines) as they struggled to maintain their power in a changing world. Always compelling, informative and rich in detail, Robin's work is a monument to great podcasting. Website & iTunes.
The History of the Crusades by Sharyn Eastaugh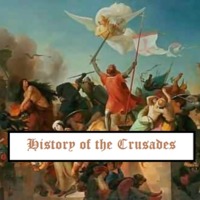 Welcome to the Crusades, one of history's most mythologized and misunderstood eras. Host Sharyn Eastaugh takes us through the famous Crusades between Christian powers and the Islamic Kingdoms, but also into the lesser-known campaigns against Christian heretics within Europe. A powerful and compelling story, well worth your time. Website & iTunes.
The History of Ancient Greece by Ryan Stitt
The story of ancient Greece, from its archaic origins to the time of the Roman conquest.  Ryan knows his subject intimately, and he brings ancient Greece to you with all the detail you could want – and then a bit more for good measure. Website & iTunes.
The History of India by Kit Patrick
The story of the Indian subcontinent, written by a passionate and articulate historian.  Musical accompaniment and great storytelling make a wonderful show. Website & iTunes.
The History of China by Chris Steward.
The story of the Chinese people and their world: from the legendary first Dynasties to the coming of Mao. A truly epic tale. Website & iTunes.
The History of England by David Crowther
The story of England and the English: monarchs and peasants; bishops and merchants. A sweeping story told with care and detail. Website & iTunes.
The History of English by Kevin Stroud
I love etymology and language history: host Kevin Stroud brings what might seem an academic subject to vivid life, and he explores the history that made English the bizarre, incomprehensible mish-mash that it is today. Website & iTunes.